Request a quote today!
Are you ready for a quote? Fill out a simple form and our sales staff will be in touch shortly.
UniMAX® Bucket Elevators by Universal Industries® - Features and Benefits
Universal Industries, Inc.® record of research and performance in bucket elevator and conveyor design can not be matched. When you are interested in moving materials of any kind, you will find a Universal bucket elevator model to match your requirements. Sort through out product lines below to find the elevator that best suits your needs!
SAFETY IS PRIORITY
UniMAX® elevators are built with the provisions to install hazardous monitoring equipment. The boot and head casings have removable covers to install belt alignment sensors and boot shafts are drilled and tapped for speed sensors. The boot bearing guards offer a take up location indicator and knock outs to access grease zerks and installation of bearing temperature sensors.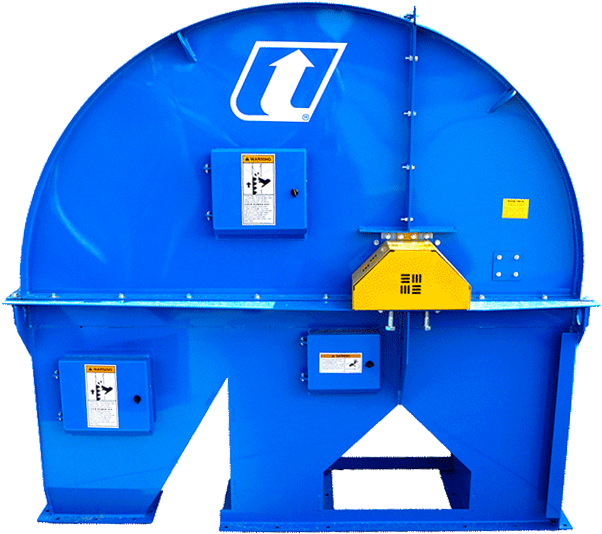 BUCKET ELEVATOR HEAD
Our UniMAX® Head has been designed with a crowned drum pulley with slide lagging and inspection doors for inspecting the buckets, belt, slide lagging, deflector pad, and discharge throat. We also include jack bolts to assist with shimming the bearings and lifting eyes on the lower head, up-leg and down-leg casings for rigging and maintenance. With safety in mind, we also include removable covers for installation of belt alignment sensors.
INTERMEDIATE SECTIONS AND LEGS
Our intermediate section are constructed with seam welded 12 gauge trunking built in a jig. We offer an optional upgrade to 10 gauge for heavier construction and include an access section for easy maintenance of buckets and belts.
BELTING AND BUCKETS
We offer standard rubber belting with PVC, high temp, and food grade options available upon request. HDPE Buckets come standard with all units but optional carbon steel, stainless steel, nylon, and urethane buckets are available as well. Upon request, buckets may be vented when the application requires it.
DRIVE OPTIONS
UniMAX® elevators offer two different drive packages all rated for Class II Service and are mounted on the right hand side when looking into the hopper. When purchased with a new elevator, the #2 drive package includes a shaft mounted reducer, v-belts, sheaves, v-belt guards and optional internal backstop. The #5 drive package includes a right hand mounted helical bevel gearbox with internal backstop and guards. Additional options for drive packages include creep drives and dual drives. Motors can be purchased as well with these drive packages.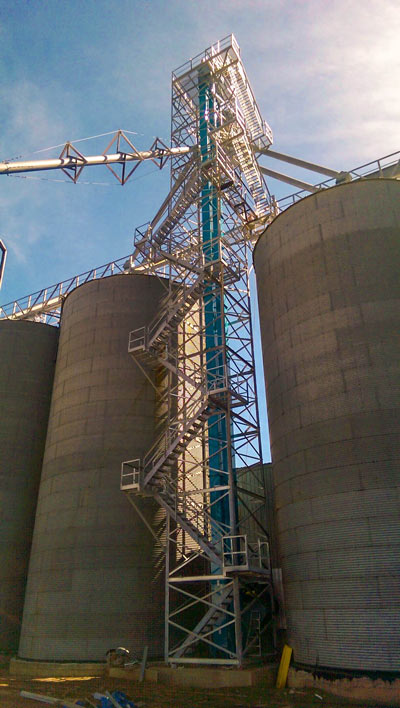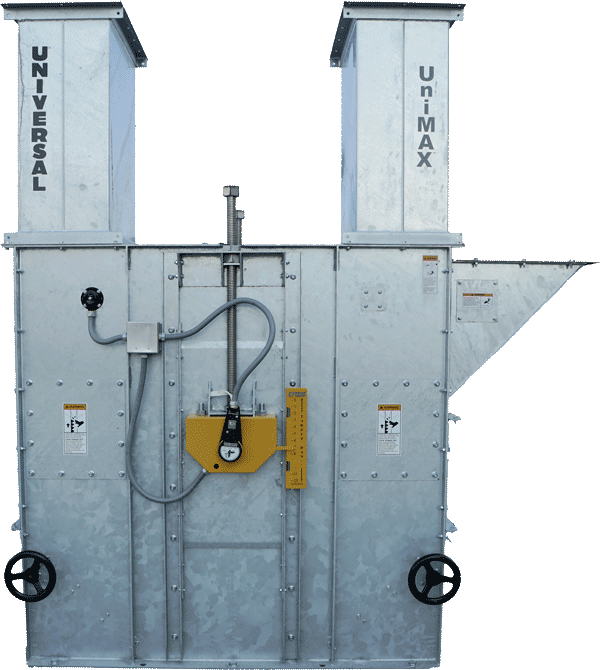 BUCKET ELEVATOR BOOT
Our UniMAX® boot has a solid welded design for durability. We offer removable covers for installation of belt alignment sensors and for the installation of a shovel pocket. Our boot shaft is drilled and tapped on both sides for installation of speed sensors.
OPTIONAL ACCESSORIES
Jib Boom
Linings – Various Configurations (AR Steel, Urethane, Ceramic Steel)
Platforms, Ladder and Cage
Bucket Fill Inspection Port Located on Access
Gravity Boot Take Up
Self-Cleaning Boot
Shovel Pocket
Rack and Pinion Clean-out (RPC)
Request a quote today!
Are you ready for a quote? Fill out a simple form and our sales staff will be in touch shortly.